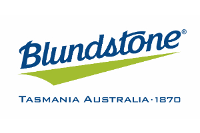 The organisation consists of a highly integrated group of companies owned and operated by a family whose history can be traced back to the 1840s.
This family purchased Blundstone Pty Ltd in 1932, amalgamating their footwear manufacturing operations under the Blundstone name. Despite having grown into one of the world's most recognisable boot brands, the company remains Tasmanian and retains its family values.
Our headquarters are based in Moonah, Tasmania, housing our administration, sales, marketing, communications, quality management, customer service and logistics sections. It's also home to our research and design centre and gumboot factory, with the capacity to manufacture 400,000 pairs of gumboots a year.
Since 1870, Blundstone has made the toughest, no-nonsense footwear for work and play.
Decades of innovative design and production mean Blundstone now oversees a global supply chain bringing together the best ideas, components and designs to complement a wide range of products - from the iconic elastic-sided boots loved worldwide, to gumboots, lace-up safety footwear for men and women, heavy industrial footwear, school shoes and casual boots. Our products are developed by a team based in Hobart who use the best resources available from all over the world to develop footwear that keeps pushing the boundaries.
Our ongoing research and development activity sees constant improvement in comfort, protection, performance and aesthetics to match the great fit and value. The Blundstone and John Bull boots we produce today are just as tough as they've always been, but are now a lot more comfortable too.
Can't find the safety equipment, workwear or corporate wear you want? Then give us a call on 1800 SAFEMAN and we'll help you find what you're looking for.