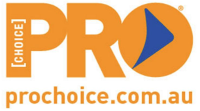 Paramount Safety Products is the name behind the ProChoice brand of high quality Personal Protective Equipment (PPE).
Paramount Safety Products was founded by the late Rob Bird in 1992 and now employs 45 people throughout an extensive distribution network. Offices and distribution warehouses are located in Sydney, Melbourne, Brisbane, Adelaide and Perth.
In 2004 our company launched the brand ProChoice Safety Gear and experienced remarkable growth across Australia. Using feedback from our customers, the ProChoice Safety Gear range has continued to expand to meet their requirements.
Where applicable, all items in the ProChoice Safety Gear range conform to Australian Safety Standards, which are amongst the most stringent in the world.
Can't find the safety equipment, workwear or corporate wear you want? Then give us a call on 1800 SAFEMAN and we'll help you find what you're looking for.