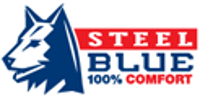 Steel Blue has experienced strong growth since operations began in 1995 with the launch of the first Steel Blue products. Our goal to manufacture and market the most comfortable safety footwear in the world is an ongoing project through our premium Steel Blue brand and is backed by our 30 Day Money Back Comfort Guarantee.
We have always prioritised the R&D of new cutting edge products, technology and customer service to expand the business into a world-class company. The range covers a full range of safety boots- elastic sided, lace up ankle and high leg, pull-on, zip sided, joggers, and specialised mining and fire fighting footwear for both men and women.
Steel Blue is 100% Aussie owned and operated. Our goal is to provide workers with a more comfortable working boot. Our manufacturing is based in Australia and dedicated factories in Indonesia and we have warehouse distribution in Australia, New Zealand and the Netherlands.
Can't find the safety equipment, workwear or corporate wear you want? Then give us a call on 1800 SAFEMAN and we'll help you find what you're looking for.